December 2, 2011 the draw ceremony of Euro 2012 was held in Kiev at the National Palace of Culture and Arts of Ukraine.
This championship was the last with 16 teams in the final round. Starting from Euro 2016, the number of teams will be increased to 24.
The opening of the championship was held in Warsaw, and the final match - in Kiev.
About 1.4 million tickets were printed. The cost of the tickets varied from 30 to 600 Euros.
There was a quota for residents of the cities hosting the matches - 2,000 tickets on one match.
The matches in Ukraine were played on the stadiums of the following cities: Lviv, Kiev, Kharkov, Donetsk.
According to the draw, the Ukrainian team competed with teams from England, France and Sweden.
So far Ukrainian team had the greatest success in 2006, when Ukrainians made their way to the World Cup, and reached the quarterfinals stage.
The logo of Euro 2012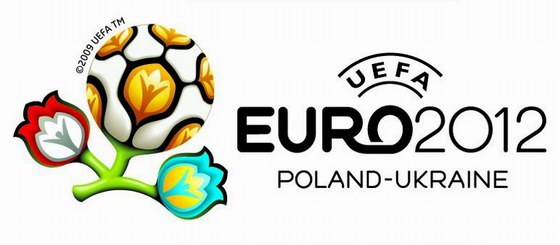 The venues that hosted Euro 2012 matches in Ukraine:
"Arena Lviv" stadium (Lviv)
"Olympic" stadium (Kiev)
"Metalist" stadium (Kharkov)
"Donbass Arena" stadium (Donetsk)
The following Euro 2012 matches were played in Ukraine
Lviv
Group stage matches
June 9, 21:45. Germany - Portugal (1:0)
June 13, 19:00. Denmark - Portugal (2:3)
June 17, 21:45. Denmark - Germany (1:2)
Kiev
Group stage matches
June 11, 21:45. Ukraine - Sweden (2:1)
June 15, 21:45. Sweden - England (2:3)
June 19, 21:45. Sweden - France (2:0)
Quarterfinal
June 24, 21:45. England - Italy (0:0, 2:4 on penalty)
Final
July 1, 21:45. Spain - Italy (4:0)
Kharkov
Group stage matches
June 9, 19:00. Netherlands - Denmark (0:1)
June 13, 21:45. Netherlands - Germany (1:2)
June 17, 21:45. Portugal - Netherlands (2:1)
Donetsk
Group stage matches
June 11, 19:00. France - England (1:1)
June 15, 19:00. Ukraine - France (0:2)
June 19, 21:45. England - Ukraine (1:0)
Quarterfinal
June 23, 21:45. Spain - France (2:0)
Semifinal
June 27, 21:45. Portugal - Spain (0:0, 2:4 on penalty)