Map of Ukraine
Interactive Ukraine map with main cities and towns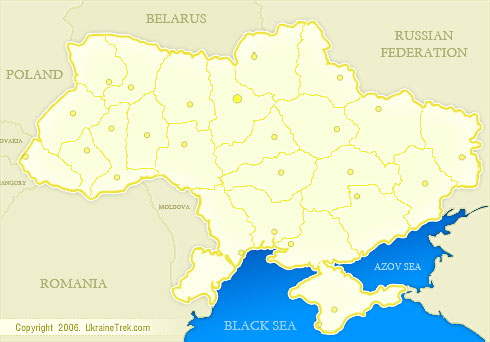 Geographical location of Ukraine
The territory of Ukraine stretches for 1316 km from east to west and 893 km from north to south. The total area of Ukraine is 603,7 thousand sq. km., representing 5,7% of the territory of Europe and 0,44% of the world. It is believed that Ukraine is the largest country in Europe that is located entirely within it. However, there is no consensus on where to place the eastern border of Europe.
The length of Ukrainian sea border is 1355 km. Ukraine has the official border with 7 UN states: in the east and north-east with Russia (1955 km), in the north with Belarus (1084 km), in the west with Poland (542 km), Hungary (135 km), Slovakia (98 km), in the south-west with Moldova (1202 km) and Romania (608 km). The coastline of Ukraine is 2835 km.
Ukraine consists of 4 geographical regions divided into 24 oblasts (regions) and 1 autonomous republic.
Ukrainian cities, towns and regions in alphabetical order.
Feedback:

leave a reply or add a review

ask a question to our Expert

contact us by email, if you have any proposals