Ukrainian Cuisine - Overview
Ukrainian cuisine is a characteristic style of cooking, practice and traditions associated with Ukrainian culture, culinary art in Ukraine. A lot of food products are subjected to a complex heat processing - at first they are fried or boiled, and then stewed or baked. This is the most distinctive feature of Ukrainian cuisine.
This complex heat processing allows to preserve the aroma of the dishes and gives them juiciness. Especially tasty and healthy are the dishes of meat and vegetables - cabbage rolls with meat, Volynian krucheniki, beef larded with beets, etc.
Ukrainian dishes are known for their variety and high taste qualities. Ukrainian cuisine includes hundreds of recipes: borscht and pampushki, flat cakes and dumplings, mushroom sauce, banosh, vareniki and sausages, drinks from fruits and honey, etc. Some dishes have a centuries-old history, for example, Ukrainian borscht.
Traditional Ukrainian Meal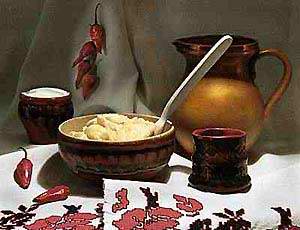 A lot of features of Ukrainian cuisine were determined by the way of life of the people, the vast majority of whom were engaged in heavy agricultural labor. Ukrainian cuisine is characterized by dishes rich in proteins, fats, and carbohydrates. For most dishes, a complex set of components is characteristic (for example, in borscht there are up to 20 components).
In the 19th century, potatoes became widely spread in Ukraine and used to make first and second courses and side dishes for fish and meat dishes. This vegetable became the "second bread" in Ukraine - practically all the first dishes were cooked with potatoes replacing such traditional vegetables as parsnip and turnip.
Dishes of Ukrainian cuisine, especially potato dishes, have much in common with dishes of Belarusian cuisine. A lot of Ukrainian dishes by name and composition have much in common with dishes of Western Slavs. Each of the ethnographic regions of Ukraine has its own peculiarities of cuisine depending on historical events and traditions.