Food in Ukraine
Ukrainian national food got a merited renown almost in all places of the world. Different floury dishes (pampushki, galushki, vareniki, korzhi and others), meat dishes (Ukrainian sausages, cold collations, game, birds etc.), vegetable and milk dishes (ryazhenka and sirniki), various drinks of fruit and honey are very popular in Ukraine.
Traditional Ukrainian meal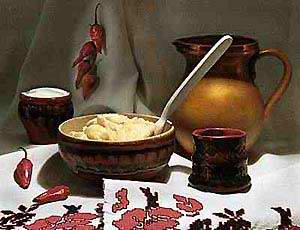 But especially known and most favorite dish all over the world is famous Ukrainian borsch. Borsch is cooked of fresh vegetables: cabbage, beet, tomato with the addition of pounded lard with garlic and parsley. The combination of all these groceries give the borsch its piquancy, aroma and unforgettable taste. There are about 30 types of Ukrainian borsch (Poltava borsch, Chernigov borsch, Kiev borsch, Volyn borsch, Lviv borsch and others).
Ukrainian borsch