Ukraine economy can be classified as developed economy, given its overall level of industrial and agricultural output. However, the economy of Ukraine suffered because of various weaknesses deriving from overcentralized command economy during Soviet period.
Ukraine economy past
Large and inefficient state-owned factories, enterprises and collective farms wasted resources and emphasized quantity over quality. Prices were arbitrarily set, and consumer goods were often in short supply. Excessive spending on the military hurt the civilian economy, while technological development lagged in the civilian sphere.
Ukraine market economy
For the last years Ukraine is moving to market economy, where the forces of supply and demand and private ownership guide the allocation of resources. The transition to market economy is politically and socially difficult because the populace must endure rising inflation, unemployment, and economic uncertainty before it experiences the long-term benefits of market economy.
In addition, Ukraine redefines its economic relations with Russia and other former Soviet republics. As a way of safeguarding its political independence and limiting its economic vulnerability, Ukraine has its own national currency, called the hryvnia, from 1992. The economic reforms also cut military production and convert military factories and technologies to benefit the civilian economy and the populace.
Ukraine economy real GDP dynamics 1998-2006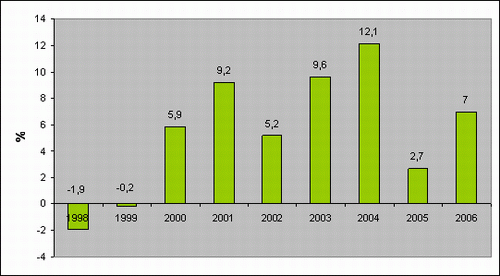 Ukraine economy consumer prices dynamics 1994-2006