State days off are marked with a *.
January 1st - New Year Day*
New Year Day celebration is very similar to the same Russian because Ukraine was part of USSR till 1991. The Holiday is the state day off and the happiest event for all citizens and kids in particular.
Children's matinee are held everywhere with bright performances and sweet presents, different concerts with participation of Russian and Ukrainian pop-stars also find wide range of spectators.
Ukraine holidays - New Year Day celebrations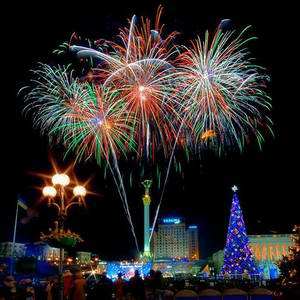 January 6th - Epiphany
The Baptism of Christ holiday or Epiphany, which is on the same level with Easter and is the most ancient Christian feast. It is dedicated to Baptizing of Jesus Christ by John the Forerunner in the Jordan river.
January 7th - Christmas*
The most important meal on the table of this evening is kutya (coliphia). By the end of the supper kids bring the meal to their godparents and parents are preparing to evening worship. After that family gathers again at the table to eat the jolly dinner which is not lean any more.