Ukrainian features
Ukraine people (Ukrainians) have rich folk culture.
Hopak is a popular and energetic folk dance involving a competition among the dancers. The name is coming from the Ukrainian "hop" - exclamation uttered during the dance. People are dancing hopak in Ukrainian folk costumes. The basic movements include the running, wide and high jumps with flapping feet.
Ukrainian culture - hopak folk dance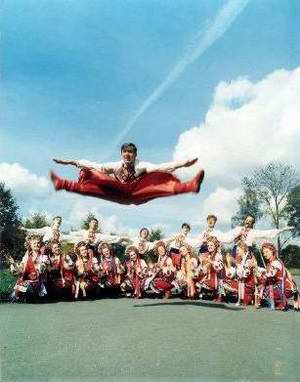 Bandum, a lutelike instrument with 50 or more strings, is Ukraine's people national musical instrument.
Pysanky are intricately designed ornamental Easter eggs, bearing Christian or pre-Christian symbols. Colorful wood-carvings are produced by the artisans of Carpathian Mountain area.
Ukrainian culture - Pysanky