Ukrainian universities are known for their excellent education and diverse academic offerings. With a rich history of higher education, Ukraine has become a popular destination for students worldwide. Here, we will explore some of the best Ukrainian universities, their strengths, and what makes them stand out. Ukrainian universities have something to offer everyone, whether you are interested in science, arts, technology, or any other field.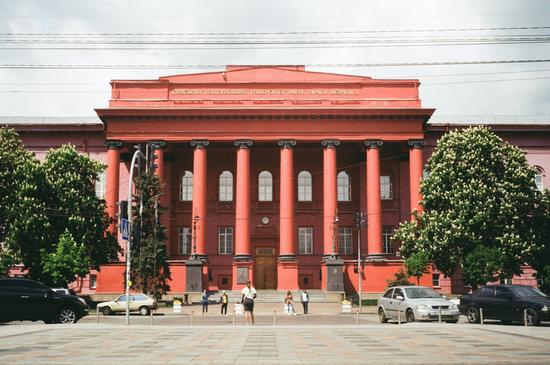 Photo of The Taras Shevchenko National University of Kyiv by Mikhail Volkov.
Ukrainian Universities: A Hub of Knowledge
Ukraine, with its rich cultural heritage and vibrant history, has emerged as a hub of knowledge and excellence in higher education. Ukrainian universities have a long-standing tradition of providing quality education to students from diverse backgrounds, making them sought-after institutions both within the country and internationally.
Quality education for all
Ukrainian universities take pride in their commitment to providing quality education to all students. Regardless of their nationality, ethnicity, or socioeconomic background, these institutions strive to offer equal opportunities for learning and personal growth. They believe that education is a powerful tool that can shape a better future for individuals and society as a whole.
Wide range of programs and courses
One of the remarkable aspects of some Ukrainian universities is the vast array of academic programs and courses they offer. Whether a student's passion lies in engineering, medicine, humanities, arts, or technology, there is a program that aligns with their interests and aspirations. The diverse selection of courses caters not only to local students but also attracts international students seeking to broaden their horizons in a welcoming academic environment.
Modern facilities and conducive learning environment
Ukrainian universities continually invest in upgrading their facilities and infrastructure to provide students with a cutting-edge learning experience. State-of-the-art laboratories, well-equipped libraries, and modern classrooms foster an environment where students can explore, discover, and create. The emphasis on creating a conducive learning environment ensures that students have the necessary resources to excel in their academic pursuits.
Promoting research and innovation
Apart from providing quality education, Ukrainian universities are also known for their emphasis on research and innovation. They encourage students and faculty members to engage in research projects, fostering a culture of curiosity and intellectual exploration. These research initiatives contribute to advancements in various fields, making Ukrainian universities significant players in the global academic landscape.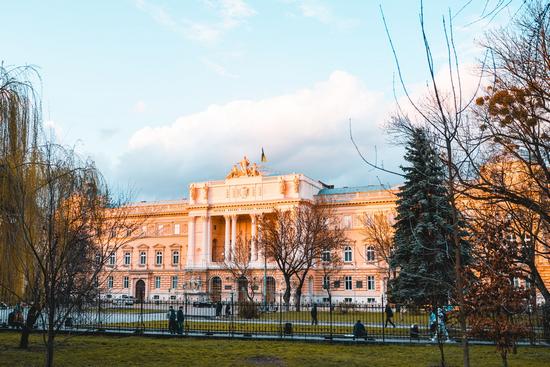 Photo of The Ivan Franko National University of Lviv by Roman Datsiuk.
International collaboration
Ukrainian universities actively promote international collaboration and partnerships with academic institutions from around the world. This collaboration not only enhances the quality of education but also enables cultural exchange and diversity on campus. Students get the opportunity to interact with peers from different countries, fostering a global perspective and enriching their educational experience.
Attracting international students
The reputation of Ukrainian universities has spread far beyond the country's borders, attracting a significant number of international students. These students come seeking high-quality education, affordable tuition fees, and the chance to immerse themselves in a new culture. Ukrainian universities warmly welcome international students and provide various support services to help them adapt to their new academic and social environment.
Building a bright future
Ukrainian universities play a vital role in shaping the future of the country and its global impact. By nurturing young minds and empowering them with knowledge, skills, and critical thinking abilities, these institutions contribute to building a brighter and more prosperous society. Graduates from Ukrainian universities go on to become leaders, innovators, and change-makers in various fields, leaving a positive mark on the world.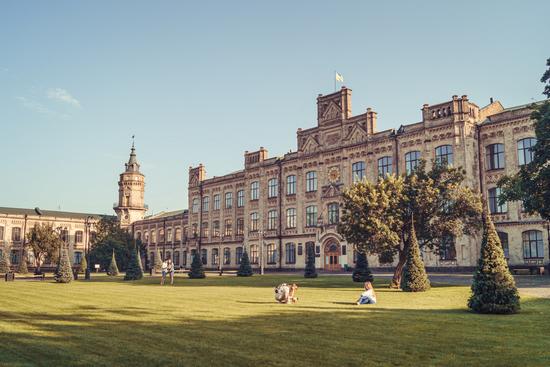 Photo of The Igor Sikorsky Kyiv Polytechnic Institute by Zephir Brush.
The List of the Best Ukrainian Universities
Taras Shevchenko National University of Kyiv
Established in 1834, it is one of Ukraine's oldest and most prestigious universities. The university offers a diverse range of courses and is renowned for its strong emphasis on research and academic excellence.
National University of Kharkiv
Founded in 1804, this university is one of the top universities in Ukraine. It boasts a strong faculty and has been a center of excellence in various fields, including science, arts, and humanities.
Lviv National University
This university is known for its vibrant academic community and some of the best universities in Ukraine, since its establishment in 1661. It offers a wide array of undergraduate and postgraduate programs.
National Technical University of Ukraine
Focused on engineering and technical disciplines, this university is a hub for aspiring engineers and technology enthusiasts.
Ivan Franko National University of Lviv
Founded in 1661, it is one of Ukraine's oldest universities and is highly regarded for its humanities and social science programs.
National University "Kyiv-Mohyla Academy"
This university is known for its international approach and offers a variety of English-taught programs to attract students from around the globe.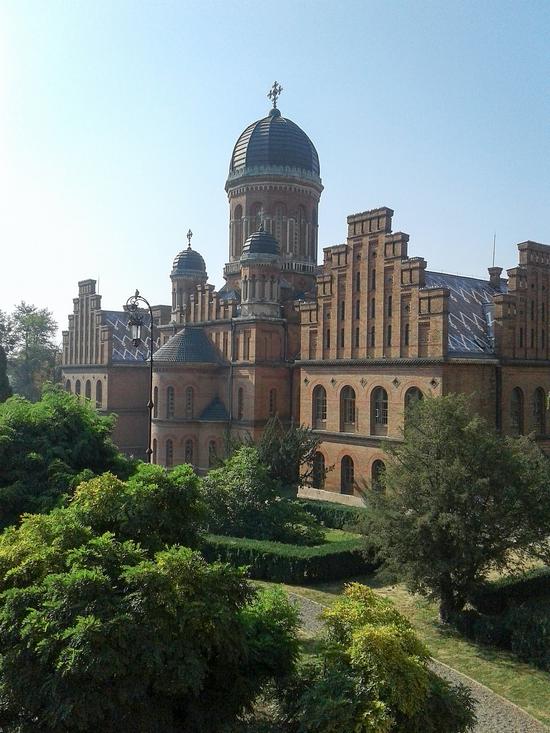 Photo by The Yuriy Fedkovych Chernivtsi National University by Tetiana Shyshkina.
Studying in Ukraine: An Attractive Option
Ukraine has become an attractive destination for international students seeking an enriching and immersive study abroad experience. With its rich cultural heritage, diverse academic offerings, and warm hospitality, Ukraine welcomes students from around the world with open arms.
Enriching and immersive experience. Studying in Ukraine offers more than just academic excellence; it provides an enriching and immersive experience. Students have the opportunity to explore a country with a deep-rooted history and a vibrant cultural scene. From ancient architectural marvels to contemporary art and music festivals, Ukraine offers a plethora of experiences that go beyond the classroom.
Affordable education. One of the most significant advantages of studying in Ukraine is the cost of education. Tuition fees at Ukrainian universities are comparatively lower than many other countries, making it an attractive option for students on a budget. Despite the affordability, the quality of education remains high, making it an excellent investment in one's future.
Welcoming cultural diversity. Ukraine is a melting pot of cultures, and international students find themselves embraced by its warm hospitality and welcoming atmosphere. The country's diverse communities and traditions enrich the social experience, providing an opportunity for students to learn from each other and celebrate their differences.
Academic support. While studying in a foreign country is exciting, it can also present challenges, particularly when it comes to academic writing. Ukrainian students along with international students may find themselves facing the daunting task of writing essays and academic papers in a language that is not their native tongue. This is where essay writing services by CustomWritings can step in to provide assistance by means of expert writers and reliable support to help students with their academic writing needs focusing on their studies and make the most of their academic journey in Ukraine.
Supportive academic environment. Ukrainian universities are known for their supportive academic environment. Faculty members and university staff are dedicated to helping international students adapt to their new surroundings and succeed in their studies. There are support services available, including language courses and academic advising, to ensure that students feel confident and empowered throughout their educational journey.
Tags: No tags
<< Lviv: The Allure of Ukraine's Cultural Capital
No comments yet.