Ukraine and the EU signed the association agreement
No comments · Posted by Sergei Rzhevsky in Politics
Historical event happened today at the ongoing European Union summit in Brussels. Ukraine and the EU signed the economic part of the association agreement with the EU. Political part of the agreement was signed in March 2014.
"By signing the association agreement, Ukraine, as a European state, which has the same values of the rule of law, emphasizes its sovereign choice to become a member of the EU in future" – said President of Ukraine Petro Poroshenko before the signing ceremony.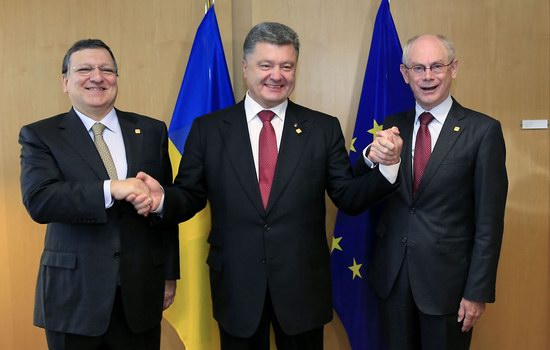 Above: Jose Manuel Barroso, President of the European Commission; Petro Poroshenko, President of Ukraine; Herman Van Rompuy, President of the European Council. Photo: © REUTERS/Stringer
It is a great example of how people can take power into their own hands and choose the path of the development of their country.
Tags: No tags
<< Misty rural landscapes of the Carpathians
No comments yet.