Ukraine Flags are Going Up in the USA at Record Speed
Since Russia invaded its neighbor almost two months ago, one flag manufacturer in southwest Ohio has seen a significant surge in requests for Ukrainian flags. Orders for Ukrainian flags have soared, according to the owner of National Flag Company, marking the first time he's seen such enthusiasm for another country's flag.
People from all around the world are rallying to put an end to the conflict in Ukraine. To that goal, they came up with a variety of ways to express their desire to put an end to the worldwide battle and save innocent people.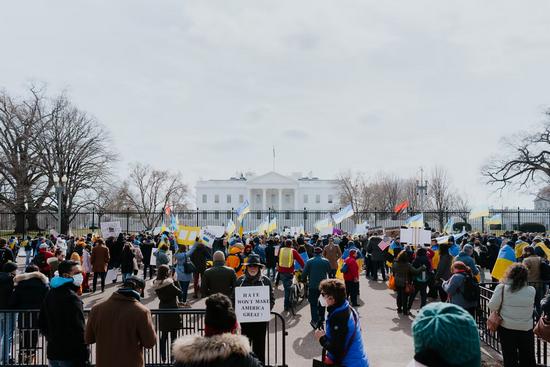 The History of the Ukrainian Flag
After gaining independence from the Soviet Union the previous year, the modern Ukrainian flag was adopted in January 1992. According to the National Technical University of Ukraine, the flag's yellow and blue stripes, which today are claimed to depict a clear sky and a wheat field, were featured in previous variants of the flag before Ukraine adopted a modified version of the Soviet Union's flag in 1949. Hence, Ukrainian custom and all-sizes flags have been waving at anti-war rallies in the United States, in store windows, and from people's houses throughout the last months. People in the House chamber wore and waved Ukrainian flags during the State of the Union speech. In a statement, Utah Governor Spencer Cox ordered the flag to be flown over the State Capitol, calling it "a show of Utah's solidarity with Ukraine." Some states have lighted government buildings and landmarks in yellow and blue as another show of support.
American Attitude towards the Situation in Ukraine
According to a new Monmouth University poll, the majority of Americans believe Russia's actions are unjustified. Indeed, according to multiple polls, Americans are more inclined to believe that the US and/or the Biden administration are not doing enough in Ukraine than that they are doing too much. As a result, many Americans show their support for Ukraine in various ways, one of which is purchasing Ukrainian flags.
How Many Ukrainians are there in the US?
In 2018, there were about one million Ukrainians in the United States. Approximately half of them are of Ukrainian heritage. The other half are interethnic marriage descendants (claimed two ancestries), with 21% claiming "Ukrainian" as their first ancestry and 30% claiming "Ukrainian" as their second. The influence of ethnic intermarriage on language assimilation can be seen in data on language spoken at home. Only around a quarter of people of sole Ukrainian origin (27%) speak Ukrainian at home, while very few people of mixed Ukrainian ancestry do.
In general, Ukrainians in the United States have a high level of linguistic assimilation, with only 14% speaking Ukrainian at home. Those who live in the United States are more likely to press the government to intervene and assist their mother nation. As a result, they will require flags and other items to represent their country.
Ukrainian-Americans and their sympathizers in the United States showed a similar determination in demanding increased support for Ukraine's outmanned military. In response to the invasion, the United States, the United Kingdom, and the European Union placed broad sanctions on Russia, including President Vladimir Putin.
World Support
There has been a global outcry against the war, not just from Ukrainians living abroad, but from people all over the world who are united in their opposition to the destruction. From vigils and demonstrations to the collection and delivery of money and supplies, photographers from NPR member stations throughout the country have been chronicling Americans' support for Ukraine.
Solidarity marches were held in cities around the United States, including Washington, DC, San Francisco, Detroit, Chicago, and Kansas City. Thousands of people also marched in Toronto, Canada. Thousands demonstrated in front of the White House in the US capital, pressing President Joe Biden to do more to stop Putin's aggression. Several speakers at a podium echoed Ukrainian President Volodymyr Zelenskiy's plea for a no-fly zone over Ukraine, which Nato has so far refrained from implementing for fear of provoking a direct clash with Russia. Hundreds of people also assembled in front of the White House in Washington to demand a NATO no-fly zone and military help for Ukraine.
Hundreds of people gathered in Atlanta's downtown for a "Stand with Ukraine" rally. As they sang the Ukrainian national anthem, some wore blue and yellow, the colors of the Ukrainian flag, while others held signs that said "Pray for Ukraine" and "Ukrainians Unite!"
The rare show of unity is fueled in part by America's image as a steady global protector of liberty and democracy. Many Americans believe they are seeing a lopsided battle pitting a powerful nation against a weaker neighbor. They are constantly bombarded with images of dead families and cities in ruins. They watch the president of Ukraine asking for assistance. Since the attack, Americans across the political spectrum have declared that the country has a responsibility to respond to President Vladimir Putin's audacious invasion, even if it means experiencing the pinch of rising gas prices and inflation, at least in the short term.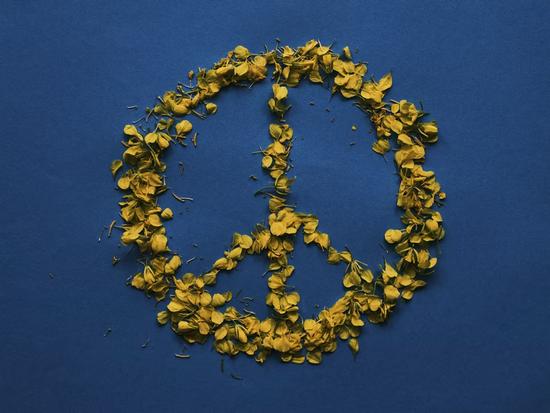 What Can People Do to Help Raise Awareness?
However, some supporters of Ukraine believe that more should be done. The international support for Ukraine is greatly appreciated, but it does not change the fact that Ukrainians are dying and thus they need much more than what they are given, and many people urge their country like is the case with the US, to help Ukraine through rallies and other ways.
Americans are more positive than negative about the US approach to the Ukraine situation, but their views are divided along party lines. 49 percent of Republicans and 69 percent of Democrats say their opinion of the US response is good, compared to 31 percent who say their opinion is unfavorable, including 49 percent of Republicans and 13 percent of Democrats. A further 20% have neither positive nor negative feelings towards it. The majority of Americans (51%) believe the US behaved "appropriately," but a majority of Republicans (56%) believe the US has "underreacted." Two-thirds of Americans, including 56 percent of Republicans and 80 percent of Democrats, support US President Joe Biden's decision to stop importing Russian energy.
Many countries around the world have banded together to put an end to the mass atrocities in Ukraine. Many people bought flags and other Ukrainian emblems to demonstrate their support for the weaker (militarily) nation during some of its most trying times. With the conflict still ongoing, it is hoped that people will desire to tire out until it is over.
Tags: No tags
<< Church of St. Michael the Archangel in Krainykovo
1 comment