CAT | Entertainment
The beach located close to Sevastopol between the Blue Bay and the Beacon (Chersonese Cape) is known for unusual stone panels. You can see various figures of animals carved on massive stone slab.
The authors are guys from Sevastopol living in another city now, but every summer they return to the place and continue their work for a month or two. Photos by aquatek-filips.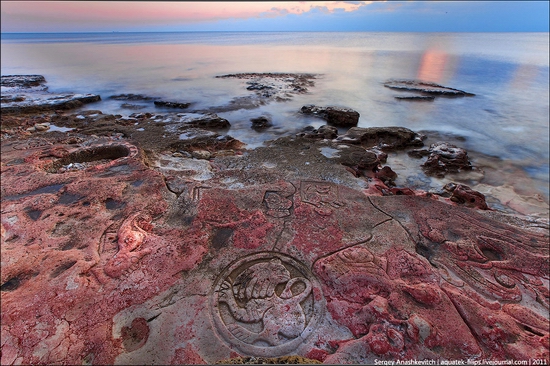 Tags: Sevastopol city
Not far from the Ukrainian regional center Rivne there is a town known as Klevan. The main attraction of it is one of the most romantic places in the world called "The Tunnel of Love". During the warm months of the year the trees planted next to each other form a fairy green tunnel along one kilometer long section of the railway.
The tunnel is very popular among lovers who like to make a wish and kiss there. If the love is sincere, then the wish will come true. Stunningly beautiful place! Photos by Oleg Gordienko.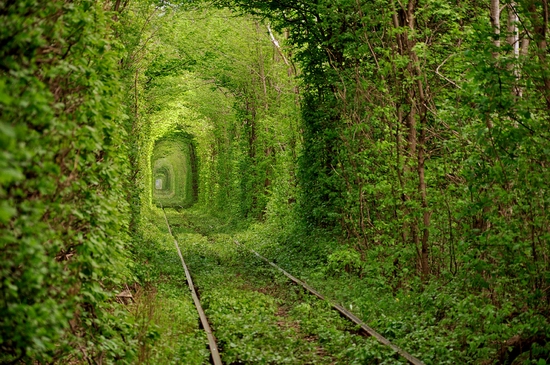 Tags: Rivne city · Rivne oblast
With the upcoming EURO 2012 Ukraine's promotional campaign has started recently with the presentation of advertising video clip "Switch on Ukraine". The video will be broadcast by major European TV channels.
But not all the people in Ukraine like it. There are a lot of doubts was it worth to spend about 500,000 USD to make it. That's why several unofficial promo videos of Ukraine made almost for free only on the enthusiasm of the photographers have appeared. The following promo time-lapse is about Ukrainian capital city – Kyiv. The author is Yaroslav Yarko.
Tags: Euro 2012 · Kiev city · time-lapse
Bukovel is a ski resort in Ivano-Frankivsk oblast (about 110 km from Ivano-Frankivsk city). The resort is located near Palyanitsa village at an altitude of 850-1372 meters above sea level. Bukovel resort is actively growing. Most of the buildings, roads and skiing tracks were built in 2005-2011.
The resort has 16 surface lifts (Doppelmayr and Leitner) and well developed infrastructure (hotels, multi-storey parkings, restaurants). Five mountains of the resort (Dovga, Bukovel, Bulchinoha, Babin Pogar, Chernaya Kleva) provide about 60 km of tracks (blue, red and black). All the tracks have snow cannons; several are equipped with fixed lighting.
Tags: Ivano-Frankivsk oblast
September 4, 2011 was the day of the official opening of reconstructed embankment and light and music fountain on Southern Bug River in Vinnitsa city.
The fountain is located near the Kemp Island, close to the central bus station. Light and music fountain of Vinnitsa is the biggest in Europe and one of the biggest in the world.
Tags: Vinnitsa city
Interesting HD tour through closed Chernobyl Zone showing the present look of the disaster site and the surrounding area.
Tags: Chernobyl · Pripyat city
Wonderful video about one mighty Ukrainian dog :)
Tags: No tags